Educational Outreach
We believe every child should have the right to understand and  have confidence in their own culture
Bready & District Ulster-Scots have a range of educational programmes in place which allows young people to understand cultural identity and especially Ulster-Scots Culture.
Music and Dance Tuition Programme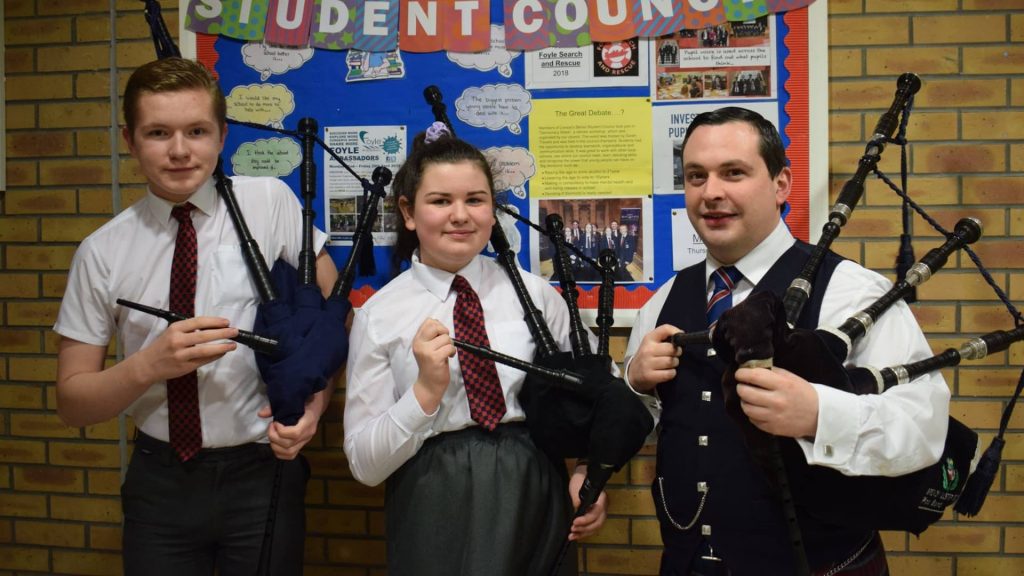 Our Music and Dance Tuition Programme involves over 2400 school children who receive tuition in Highland Dancing, Highland Bagpipes & B Flat Flute. As well as weekly lessons pupils also receive workshops on Cultural Awareness and Identity. 
This helps to increase young people's confidence in not only their cultural identity but also build on educational attainment and resilience. 
This programme is funded by the Department of Education & Education Authority. 
The programme is delivered by highly experienced tutors Georgina Kee-McCarter, Darren Milligan and Andrew Lynch.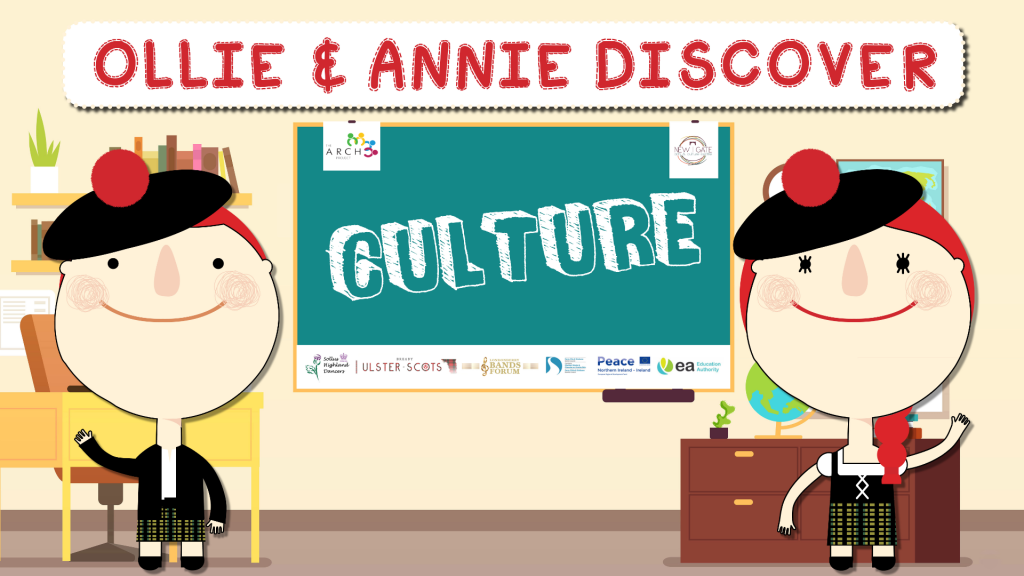 Ollie & Annie Discover is an Online platform with a mix of interactive videos and activities which teaches children in Key Stage 1 & 2 about the importance of culture and identity. The platform has been developed by our 3 tutors from our music and dance tuition programme in association with an advisory group of local school teachers. 
The 2 animated characters 'Ollie' & 'Annie' will take pupils on a journey discovering aspects of culture throughout Northern Ireland such as highland dancing, bagpipes, marching bands and so much more. The platform also contains teaching plans and worksheets and the platform is available online and to schools throughout Northern Ireland. 
Not So Serious Burns Programme
"Not So Serious Burns" is a 35-minute theatre-in-education play on the life and work of the national bard of the Scots and Ulster Scots – Robert Burns!
We are welcomed into Rabbie's world as we meet his wife Jean and best friend Archie as they join him on stage. It's Burn's Day and as they wait for the haggis to cook, they reminisce together as Rabbie tells the children about his upbringing on the farm and his love of school. He remembers his first poem that he wrote at 15 years of age "Once I Lov'd A Bonny Lass" and sings a version of his poem "My Love Is Like A Red, Red Rose".
It's not all about Rabbie though as Archie gives us a few hearty renditions on the pipes and Jeanie treats the audience to a bit of her speciality of Highland Dancing whilst encouraging the audience to join in with an impromptu fling!
Whilst all this has been going on, everyone has forgotten about the haggis and, when they remember, they are worried it will be over-cooked. Luckily, though it is saved and dinner can be served – for some of the audience too! But first, the haggis must be piped in and ceremonially served. Once the dinner has been served, it is time to part in the traditional manner of a rousing rendition of "Auld Lang Syne" for the whole audience to join in. 
"Not So Serious Burns" combines music and drama, poetry and song, Highland dancing and haggis as well as incorporating the Lallans language in this fast-paced entertaining Burns' experience, for young people from 4 to 84!
Written by Jonathan Burgess, author of other theatre-in-education plays such as "Fair Faa Ye", "Old Glory" and "The Honest Sod" and Produced by Sollus Cultural Promotions producers of "The Walled City Tattoo".